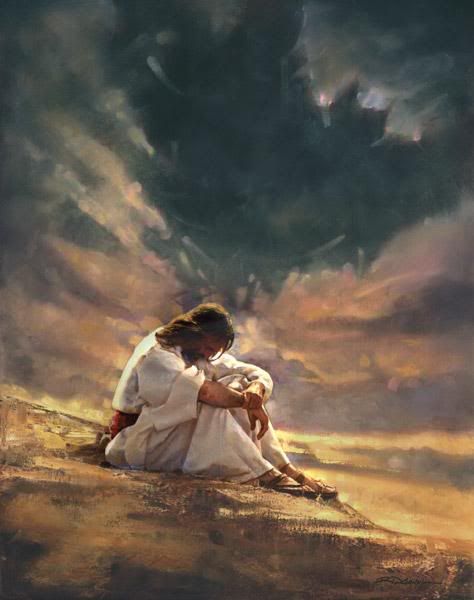 Matthew 4:1-11
1Then Jesus was led by the Spirit into the desert to be tempted by the devil. 2After fasting forty days and forty nights, he was hungry. 3The tempter came to him and said, "If you are the Son of God, tell these stones to become bread."
4Jesus answered, "It is written: 'Man does not live on bread alone, but on every word that comes from the mouth of God.'[a]"
5Then the devil took him to the holy city and had him stand on the highest point of the temple.6"If you are the Son of God," he said, "throw yourself down. For it is written:
" 'He will command his angels concerning you,
and they will lift you up in their hands,
so that you will not strike your foot against a stone.'[b]"
7Jesus answered him, "It is also written: 'Do not put the Lord your God to the test.'[c]"
8Again, the devil took him to a very high mountain and showed him all the kingdoms of the world and their splendor. 9"All this I will give you," he said, "if you will bow down and worship me."
10Jesus said to him, "Away from me, Satan! For it is written: 'Worship the Lord your God, and serve him only.'[d]"
11Then the devil left him, and angels came and attended him.






To think the Son of God was put into a more tempting position than anything we could fathom, despite the severe hunger of fasting for 40 days IN THE DESERT and the ability to fulfill a selfish desire, Christ denied such self gratification in order to obey and continue to follow the Holy Spirit which guided him to his position.

Point to ponder...

To think Jesus could've done for himself whatever he wanted, but instead lead a life of complete humility and obedience to what God called him to do. He could've lived a life of luxury, power, and pleasure, pretty much what would've been considered a hallowed lifestyle back in the day. But he completely devoted every single action to following his Father and living with the pain and unappealing effects his choices brought. At Gethsemane he KNEW HE WOULD BE KILLED UNFAIRLY but allowed this to live up to the torturous, unjust crucifixion he was expected of by God.

How loving... How humble... How faithful... To have the ability, power and opportunity to indulge in any worldly desire you could choose from, but deny it all and selflessly serve the people around you (who, by the way, betray him countlessly) and your Creator (doesn't betray, but asks quite a lot) without question.
Another example... I wanted to put up a picture but none of the illustrations seem to capture the desperation of what Jesus's prayer was about...
Matthew 14:32-42
32They went to a place called Gethsemane, and Jesus said to his disciples, "Sit here while I pray."33He took Peter, James and John along with him, and he began to be deeply distressed and troubled. 34"My soul is overwhelmed with sorrow to the point of death," he said to them. "Stay here and keep watch."
35Going a little farther, he fell to the ground and prayed that if possible the hour might pass from him. 36"Abba,[a] Father," he said, "everything is possible for you. Take this cup from me. Yet not what I will, but what you will."
37Then he returned to his disciples and found them sleeping. "Simon," he said to Peter, "are you asleep? Could you not keep watch for one hour? 38Watch and pray so that you will not fall into temptation. The spirit is willing, but the body is weak."
39Once more he went away and prayed the same thing. 40When he came back, he again found them sleeping, because their eyes were heavy. They did not know what to say to him.
41Returning the third time, he said to them, "Are you still sleeping and resting? Enough! The hour has come. Look, the Son of Man is betrayed into the hands of sinners. 42Rise! Let us go! Here comes my betrayer!"


Christ struggled with doing the right thing believe it or not! He felt fear, pain, and anxiety just like everyone else, but he knew that this life is only temporary and he had an eternal purpose to take care of! He followed God's teachings faithfully every single step of the way without flaw, and raised the bar of faith so high no one else has been able to reach it or even come close.
To sum things up, I really think this is an incredibly significant point of Jesus's sacrifice that most don't touch on too much... Christ had the choice

to lay down his life for his Father and for us. He had

the choice to disregard everything and take the power he was bestowed and use it for his own personal comfort. Check out which one he picked! :D
Praise him for his undying love, and for unending faith in the rebellious monstrosity God calls his children. His doings need to place conviction in our hearts and humble our actions. We are not deserving of anything he did, but he made it absolute that we have the chance to spend eternity with him. Put that in your mind before you take the safesearch off google images or head to that party or whatever. Remember you're lucky enough to know the forgiveness that backs up an entire life lived, ended, and resurrected just for you.

:) Hopefully that thought'll influence those decisions you were looking into. Which choice will you make?
G-g-g-g-g-g-god blesssssssss


(

If you don't necessarily believe that Christ was who he said he was you really ought to do some research, there are countless non-biased accounts of his miraculous works that have been deemed acceptable by non-biased historians.)